Follow our step-by-step guide to learn how to watch Easter movies on Shield TV.
Get ready to binge-watch some of the most amazing Easter movies this holiday. Are you done with Easter egg hunting and all other Easter celebrations? Then you have got this great opportunity to relax and enjoy these movies while sitting on the couch. 
You can also watch these inspiring movies on your Shield TV device. We have made up a complete guide for Shield TV users about how they can watch Easter movies on their devices for free.
2 Ways to Watch Easter Movies on Shield TV
We are going to tell you two free methods for streaming Easter movies on NVIDIA Shield TV device:
Both these free methods are unverified, so it is strictly advised to use a VPN on your Shield TV service because it keeps your online activity hidden from the ISPs.
Our Recommended VPN – ExpressVPN
ExpressVPN is our recommended VPN because it completely hides your IP address and keeps your online activity private while you stream free Easter Movies on Shield TV.
Get yourself ExpressVPN today and enjoy 3 extra months for free. It also offers a 30-day money-back guarantee and works on 5 simultaneous devices with a single account.
Watch Easter Movies On Shield TV Using Puffin TV Browser
Have a look at our first method to watch free Easter movies on your Shield TV. This is a browser method that uses the Puffin TV Browser for watching your favorite Easter movies.
However, you must be careful as you are using a free service. Therefore, to have a secure connection you must install and use ExpressVPN before streaming anything on your Shield device.
Follow these steps to know how you can  install Puffin TV-Browser:
Step 1: Open the Google Play Store app from the home screen of your Shield TV
Step 2: Go to the Search bar
Step 3: Enter the Puffin TV browser in the search bar and press it
Step 4: You must now hit the install button
Step 5: Wait for the app to fully install 
Step 6: Now press the Open button
Step 7: Now wait till the Puffin TV browser is launched
Step 8: This is the interface of the browser that you are watching on your screen
Step 9: Go to the Search icon on the top corner
Step 10: Put the URL cataz.to OR gomovies.sx in the search bar and select Go
Step 11: This is the interface of the Cataz Official Website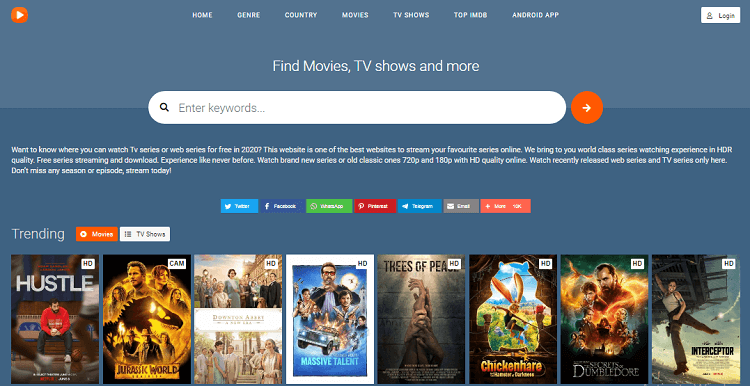 Step 12: Search for the Easter Movie and select one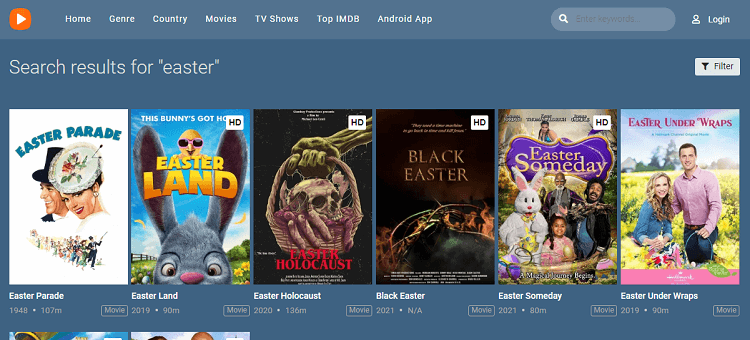 Step 13: This is your chosen movie streaming live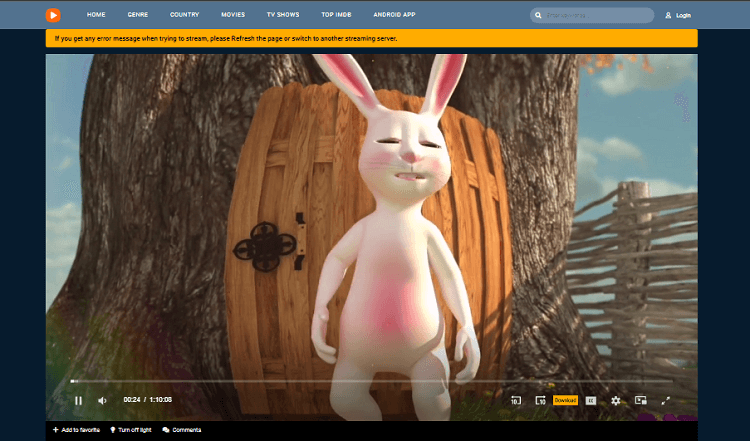 Watch Easter Movies On Shield TV using Cinema HD 
Using the Cinema HD app method we can easily watch free Easter movies on Shield TV. However, since Cinema HD is a third-party app so you must install it by using the downloader app. 
But you have to be cautious before you start streaming something on the Cinema HD app for free and use ExpressVPN as it will keep you anonymous while you are streaming free content.
Follow these steps:
Step 1: The homepage of Shield TV has the Google Play Store. Open the app
Step 2: This is the homepage of the Google Play Store app that is popping on your screen
Step 3: Go to the Search bar 
Step 4: Put Downloader in the search bar. After that press the Search bar
Step 5: Hit the install option now
Step 6: You must wait as the app is getting installed  
Step 7: Now select Open
Step 8: The Downloader app will ask for your consent to access your photos and media. Press Allow and approve
Step 9: The Quick Start Guide is open. Select OK 
Step 10: The homepage of the Downloader app is open now. Go to the settings option and change some settings.
Step 11: Go to the Device Preferences option
Step 12: After that, you have to select Security & restrictions 
Step 13: Now go to the Unknown sources 
Step 14: Enable Downloader by going to the settings 
Step 15: Now you must Disable the Verify apps by going back to the previous page
Step 16: Go back to the homepage of  Shield TV and select the Downloader app
Step 17: This is the home screen of the Downloader app 
Step 18: Enter the URL bit.ly/4577785 and click Go
Step 19: Wait for some time because the Cinema HD APK file is downloading
Step 20: When the download process ends press the Next option
Step 21: Now press Install
Step 22: Wait till the APK file installs properly
Step 23: A notification will appear on your screen. When the Cinema HD app is installed then press Done 
Step 24: Select the Delete icon to delete the Cinema HD APK file
Step 25: You can also confirm by pressing Delete again
Step 26: Go back to the home menu
Step 27: Go to Apps and select Cinema HD
Step 28: Click Open
Step 29: It will ask for permission so click on Allow to grant access
Step 30: Accept the disclaimer on the prompt
Step 31: Accept changelogs by clicking OK
Step 32: Choose your favorite Easter movie to watch
Some Of The Best Easter Movies
Peter Rabbit
The troublesome rabbit whose stories we all learned in our childhood storybooks, came to the big screen and people went crazy for it. The wicked Peter Rabbit strives hard to get the attention and love of his kind neighbor. This is a partially-animated film that keeps its viewers hopping into their Easter spirit. The movie is fun to watch and describes the classic tale in the most hilarious and silly way.
Hop
The creators of Despicable Me have produced this family-friendly movie that describes the story of the Easter bunny and his son. The movie is a blend of animation and live actors. The story is about a man named Fred, who never took life seriously, and then suddenly his life takes an interesting turn when he unknowingly injures an Easter Bunny. He is then forced to take in the bunny as a guest and soon they travel to Hollywood in search of rock n' roll stardom.
The Last Temptation of Christ
If you want to know the life story of Jesus Christ and his sacrifices, you must watch Martin Scorsese's movie which starred Willem Dafoe as God's son. Jesus (Willem Dafoe) is a simple man who came to know that he is the son of God. Though he always insists his people love and avoid violence, he is eventually drawn into revolutionary action against the Roman occupiers. Jesus bears all the pains and sufferings in his life, which eventually led him to death on the cross.
Rise of the Guardians
Rise of the Guardians is another family-friendly adventure that shows all the fantastic fairy tale childhood heroes like Santa Claus, the Tooth Fairy, Jack Frost, the Sandman, and the Easter Bunny. All these amazing characters gather up to fight the evil forces that endanger the world in darkness. Hugh Jackman is behind the voice of Bunnymund who is an Easter-obsessed Australian rabbit.
The Prince of Egypt
This animated movie is a classical hit that pictures the story of the Book of Exodus in a very fun way. The story is quite gripping as it describes the true-life events of Moses depicting the first Passover, a holiday that regularly overlaps with Easter. It also shows Moses's struggles to rescue the Israelites from slavery. The movie is an excellent pick for Easter and has an excellent soundtrack.
Alternatives to Easter Movies
I have listed some of the alternatives that you can use to watch Easter movies and other movies and shows according to occasion and mood.
FAQs-Easter Movies on Shield TV
What movies do kids like to watch on Easter?
Some of the most popular Easter movies among the kids that they enjoy watching with their families are Peter Rabbit 2, Peppa Pig – Easter Bunny, Willy Wonka & The Chocolate Factory, Rabbit School: The Guardians of the Golden Eggs, A Week Away, It's the Easter Beagle, Charlie Brown and Hop.
Has Disney produced any Easter movies?
Disney has produced a vast Easter hit movie named Ice Age: The Great Egg-Scapade, available on Disney Plus. Get ready to witness some of the most loved characters like Scrat, Manny, Sid, and Diego in their hilarious animated adventure this Easter.
Is it safe to stream Easter movies on your Shield device using the Cinema HD app? 
It is entirely safe to use the Cinema HD app for streaming Easter movies on Shield TV only if you use a VPN with it. That is mainly because the app is free to use, and it is unknown whether it holds a proper license. 
Conclusion
No Easter festivities are complete without watching movies. Make your kids watch some of the best original and fantasy Easter stories. You can now easily stream them on your Shield TV. 
You can watch Easter Movies on Shield TV by various methods, one of the methods is by using the Puffin TV browser and the other one is by using the Cinema HD app.
However, you must not forget to use ExpressVPN as it will hide your IP address and makes your streaming safe and protected from any outside threats.